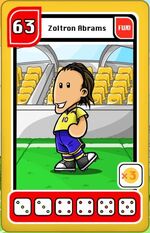 Number: 63
Position: FWD CF: CF
Colour: Yellow
Power: Bicycle Kick
Power Trigger: Pair
Hire Cost: $4,000,000
Sell Cost:
Unlock Condition:
Unlock Price:
In-Game Description
Edit
Zolton's won more tournaments with more teams than anyone can keep track of. Time to add to the silverware with DSL trophies!
Other Description
Edit
Zolton Abrams is a parody of the Paris Saint-Germain (PSG) player, Zlatan Ibrahimovic.