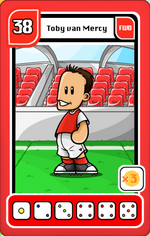 Number: 38
Position: FWD CF: CF
Colour: Red
Power: Bicycle Kick
Power Trigger: Pair
Hire Cost: 200,000
Sell Cost:
Unlock Condition: Concede 3 goals
Unlock Price:
In-Game Description
Edit
Other Description
Edit
Toby Van Mercy is a parody of Arsenal's Robin van Persie.
Pair him up with Steve Jepoardy and Dicey Dave. Each roll put the Bycicle Kick on the highest dice and put the Assist on the Wildcard. Repeat this until your total is higher than the opponents then hit play on.
To get Dicey Dave on your squad leave the spot empty then go back to the screen that says privew/play and hit play but he can only roll wildcard so don't put him in centre foward