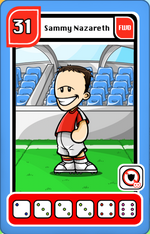 Number: 31
Position: FWD CF:
Colour: Yellow
Power: Step-Over
Power Trigger: 3 consecutive numbers
Hire Cost: $78,000
Sell Cost: $50,700
Unlock Condition: Finish 10 matches in a draw
Unlock Price: $0.99
In-Game Description
Edit
This French messiah was making all the transfer headlines in England before he decided to join the exodus and become a part of the DSL.
Other Description
Edit
Sammy Nazareth is a parody of Manchester City's Samir Nasri.
Sammy's Step-Over power is powerful, but "3 consecutive numbers" is very difficult to trigger without at least one wildcard in your lineup.