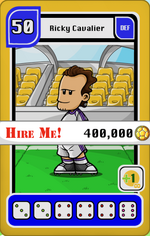 Number: 50
Position: DEF CF:
Colour: Yellow
Power: Defensive Wall
Power Trigger: Three of a kind
Hire Cost: $400,000
Sell Cost:
Unlock Condition: Only unlockable in the store
Unlock Price: $0.99
In-Game Description
Edit
Rick's always up to his tricks in the locker room. But on the field, he's as steady as a rock. Just don't let him get you Rick-rolled.
Other Description
Edit
Ricky Cavalier is a parody of Ricardo Carvalho.
Team up with Footy Spice and Narnia Villish for defense. So the "Defensive Wall effect goes on better.