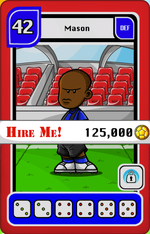 Number: 42
Position: DEF CF: -
Colour: Red
Power: Hard Tackle
Power Trigger: Pair
Hire Cost: $125,000
Sell Cost:
Unlock Condition: Win Tournament 1.2
Unlock Price:
In-Game Description
Edit
Mason. One word that strikes fear into the hearts of even the heartiest of strikers. They've been known to freeze in their tracks at just the sight of him.
Other Description
Edit
Mason is a parody of the Inter Milan player, Maicon.
Add some players who at least have a "straight" effect activation.