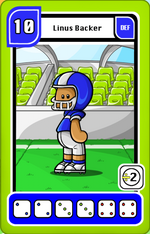 Number: 10
Position: DEF CF:
Colour: Green
Power: Charge
Power Trigger: All Even
Hire Cost:
Sell Cost: $780
Unlock Condition:
Unlock Price:
In-Game Description
Edit
Linus Backer was born to play football. Unfortunately, a slight mixup with his athletic scholarship drafted him into the wrong kind of football program.
Other Description
Edit
This guy is entirely fake.