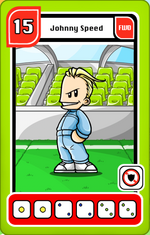 Number: 15
Position: FWD CF: CF
Colour: Green
Power: Shielding
Power Trigger: 2
Hire Cost: 1,500
Sell Cost:
Unlock Condition:
Unlock Price:
In-Game Description
Edit
Johnny is Jimmy's first cousin once removed. His unique athleticism in an otherwise pedestrian lineup makes him a difficult target for the opposition to hold down.
Other Description
Edit
He is entirely fake.