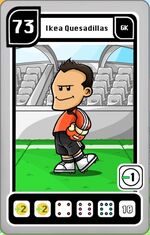 Number: 73
Position: GK CF: -
Colour: Grey
Power: Tackle
Power Trigger: 4
Hire Cost: $7,000,000
Sell Cost:
Unlock Condition: Qualify for Season 4
Unlock Price: 1.99
In-Game Description
Edit
He's not Swedish nor Mexican, but a salt of the earth Spaniard. And he'll protect his dice-goal just like he does in Madrid.
Other Description
Edit
Ikea Quesadillas is a parody of Iker Casillas.
Against him, Callente Rollovo has almost a half chance of beating him, using his anchor on himself when Quesadillas rolls a 4.