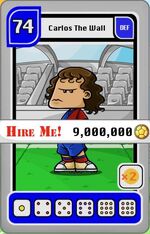 Number: 74
Position: DEF CF: -
Colour: Grey
Power: Critical Striker
Power Trigger: Pair
Hire Cost: $9,000,000
Sell Cost:
Unlock Condition:
Unlock Price:
In-Game Description
Edit
Carlos puts the mad in Madrid, when he plays against in archrivals. But the DSL is a place for new alliances to be formed.
Other Description
Edit
Carlos The Wall is a parody of Carles Puyol.