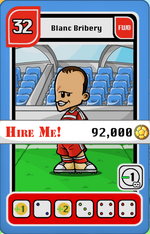 Number: 32
Position: FWD CF: CF
Colour: Blue
Power: Clearance
Power Trigger: Pair
Hire Cost: $92,000
Sell Cost:
Unlock Condition: Win tournament 1.1
Unlock Price:
In-Game Description
Edit
Beware of Blanc! The Frenchman is a big threat in the German leagues and will rob you of your possession in broad daylight if you don't watch him like a hawk.
Other Description
Edit
This guy is a parody of Franck Ribery.