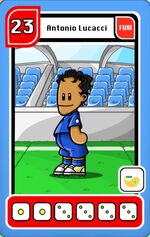 Number: 23
Position: FWD CF: -
Colour: Blue
Power: Saving Tackle
Power Trigger: Pair
Hire Cost: $20,000
Sell Cost:
Unlock Condition:
Unlock Price:
In-Game Description
Edit
This Italian stallion will give you a run for your money. His ability to turn a game on its head makes him an asset to any team!
Other Description
Edit
Antonio is good for early in the game. Use him with Ray Beeze and another player that has majority of odd dices (i.e. Solo Kilo / Jack von Strapp). The Through Pass skill should trigger often. Antonio is also required for a top secret lineup which can roll up to infinity!